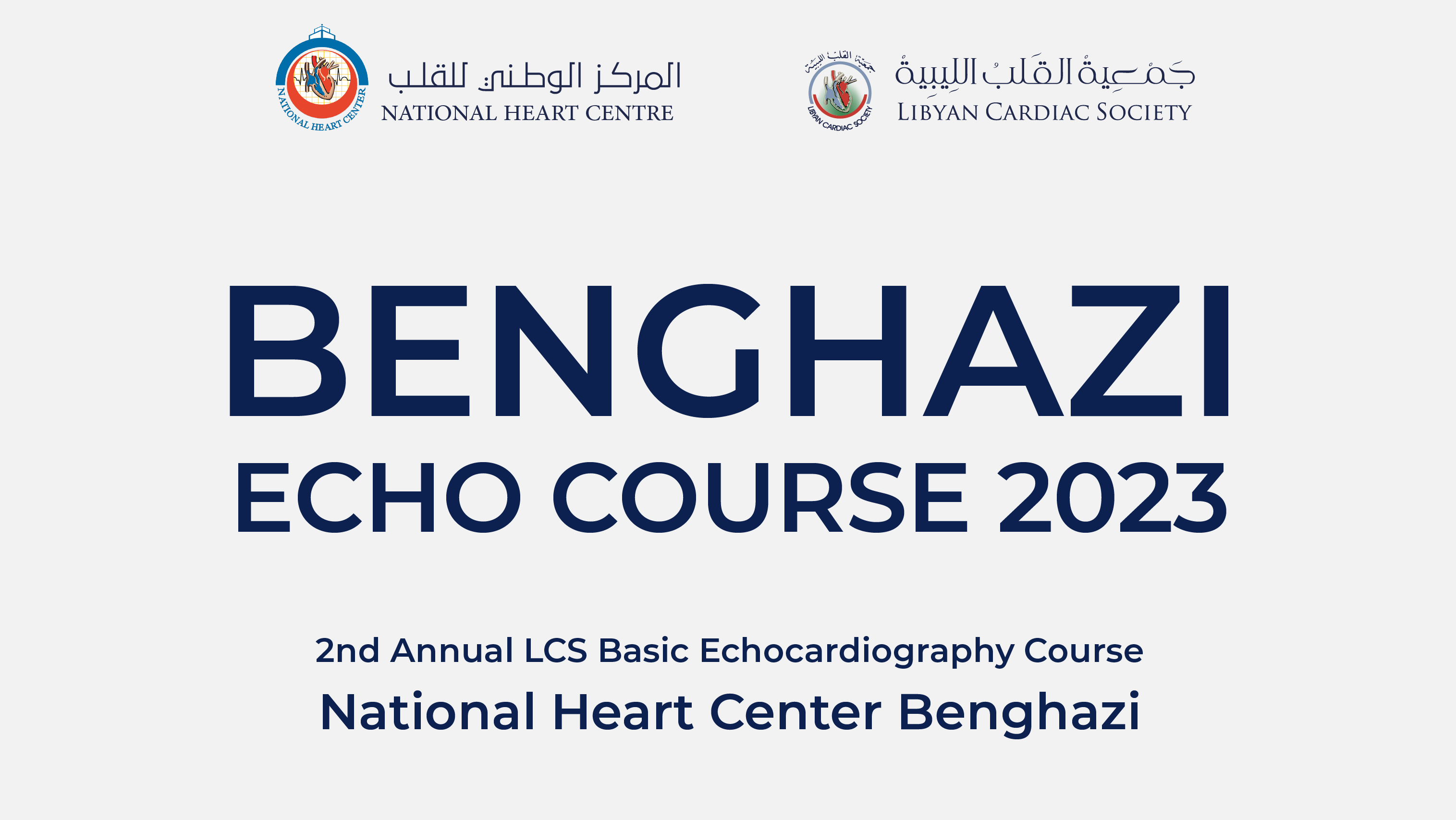 2nd Annual LCS Basic Echocardiography Course
The Libyan Cardiac Society will host a three-day hands-on course on basic transthoracic echocardiography between January, 17th to 19th, 2023 at the National Heart Center Benghazi. The course will start with morning lectures, followed by hands-on training at the afternoon sessions throughout the course. Attendees will learn how to perform complete transthoracic echocardiogram, chamber quantifications and basic valve assessment using different echocardiography techniques.
Target attendees: 20 physicians on first come, first served basis. 
Course requirements for attendance:
Letter of nomination from your cardiology department
1-2 nominations per hospital
Course fees: 600 Libyan dinars for LCS member and 1000 Libyan Dinars for non-member.  Payment due on the first day of the course!
Hotel accommodation: The society has secured 15% discounted room rate for the course attendees at Bab Garyounis hotel. Transportation from the hotel to the course will be provided.
Registration opens: December 6th, 2022.
Registration is re-opened until January 10th, 2023
Email notifications regarding registration status will be sent by January 10th, 2023. 
For any questions please email us at info@lcs.org.ly
الزملاء و الزميلات الأعزاء المهتمين بالإشتراك، نود توضيح بعض النقاط المهمة قبل التسجيل بهذا البرنامج التدريبي
يجب ان يكون للمشارك خبرة في إستخدام جهاز الايكو وليس مبتدئا (مطلوب تحميل رسالة بذلك من جهة العمل)
تدفع قيمة الدورة كاملة نقداً صباح أول يوم بالدورة
المواصلات لمدينة بنغازى والاقامة والاعاشة يتحملها المشترك بالكامل
تتعاون الجمعية في إجراء حجز مخفض بنسبة %15 في فندق باب قاريونس لاقامة المشتركين من خارج المدينة
يتكفل الجمعية و المركز الوطنى للقلب ببنغازى مشكورا بتوفير المواصلات بين الفندق ومكان الدورة وكذلك بتوفير وجبة غذاء للمشتركين خلال أيام الدورة
و لأي إستفسار يمكنكم التواصل معنا عن طريق البريد الإلكتروني للجمعية 
info@lcs.org.ly
بالتوفيق للجميع