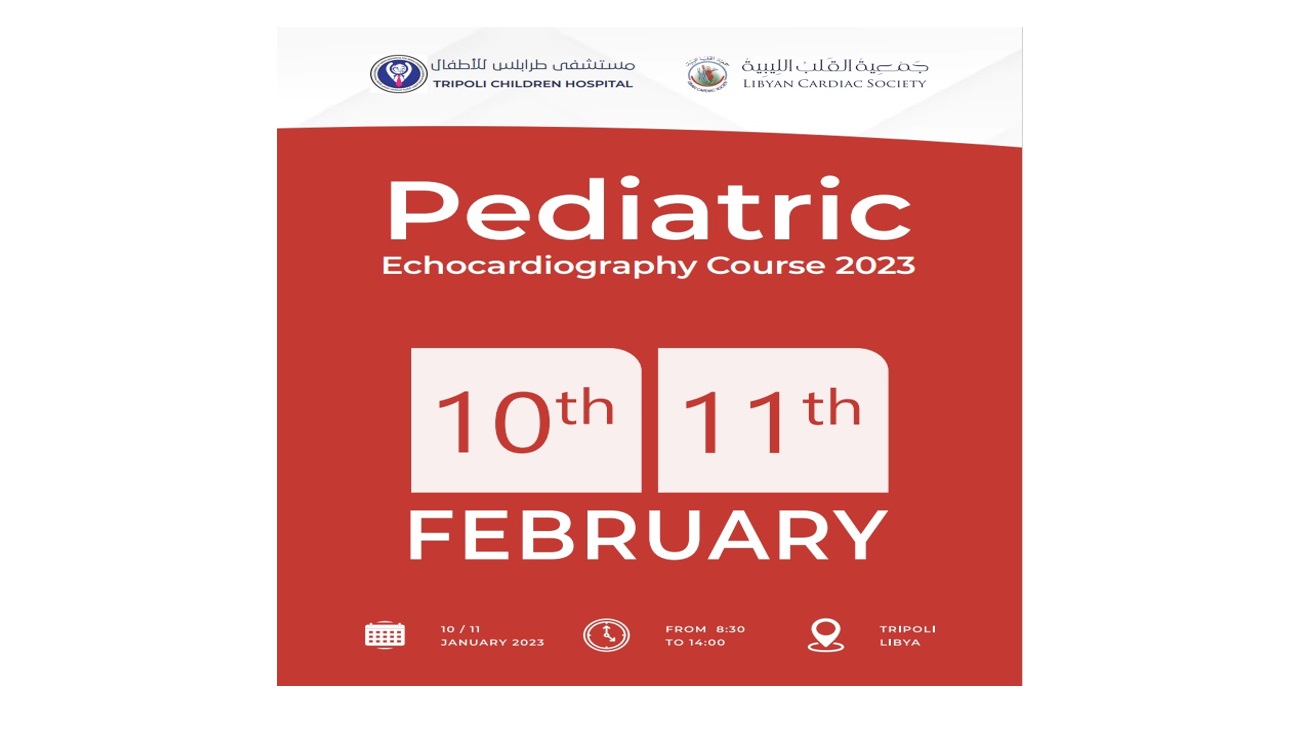 Tripoli Pediatric Echocardiography Course
The Libyan Cardiac Society will host a two-day hands-on course on Basic Pediatric Echocardiography between February 10th & 11th, 2023 at Tripoli Children Hospital. The course will start with morning lectures, followed by hands-on training at the afternoon sessions throughout the course. Attendees will learn how to perform basic pediatric transthoracic echocardiography screening for congenital heart disease in comprehensive manner, especially in neonates.
Target audience : Junior Pediatric Cardiologist,  Pediatric Intensivist & Neonatologist. Maximum number is 20 physicians based on first come, first served basis. 
Course fees: 400 Libyan dinars for LCS member and 500 Libyan Dinars for non-member.  Payment due on the first day of the course!
Hotel accommodation: The society has secured discounted room rate for the course attendees from outside the city.  Transportation from the hotel to the course will be provided.
Registration opens: January 8th, 2023.
Registration Closes: February 5th, 2023
Email notifications regarding registration status will be sent by February 5h, 2023. 
For any questions please email us at info@lcs.org.ly
الزملاء و الزميلات الأعزاء المهتمين بالإشتراك، نود توضيح بعض النقاط المهمة قبل التسجيل بهذا البرنامج التدريبي
تدفع قيمة الدورة كاملة نقداً صباح أول يوم بالدورة
المواصلات لمدينة طرابلس والاقامة والاعاشة يتحملها المشترك بالكامل
  تتعاون الجمعية في إجراء حجز مخفض بفندق لاقامة المشتركين من خارج المدينة
تتكفل الجمعية و مستشفى الأطفال طرابلس بتوفير المواصلات بين الفندق ومكان الدورة وكذلك بتوفير وجبة غذاء للمشتركين خلال أيام الدورة
بالنسبة لموقع المستشفى مكان الدورة سيكون بطريق المطار بجانب خزانات النفط
و لأي إستفسار يمكنكم التواصل معنا عن طريق البريد الإلكتروني للجمعية 
info@lcs.org.ly
بالتوفيق للجميع
Sold out!